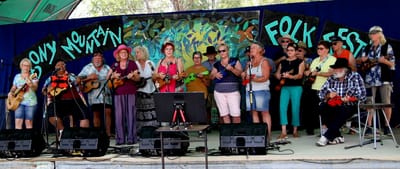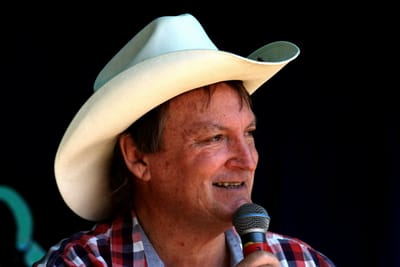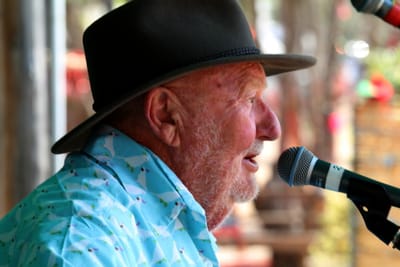 We are proud of our little festival in the bush, now our 13th year! We kick off with our Walk Up Program on Tuesday - also our Ukulele School which has a big following! On Thursday our traditional Welcome Concert which usually includes Norma (our Hostess) and invited friends! Our Bony Mountain Boys- a bunch of North Queenslanders - will kick this off ! Just a taste of what's to come! Friday morning we will be in full swing with Steve Passfield at the helm!
9AM- Bush Breaky with MC Gary Fogarty- spinning yarns/poetry-and Errol Gray (Country/Comedy) a great way to start the day with a good laugh! There will be hot breaky at The Shack. Fillet steaks also & hot chips! Chicken Parma! Pizza- Country cooking, cakes,slices, Big Home Made Soup-Sat nite- BYO bowl- Blue Heeler Coffee Shop- Charlies ice cream.
FRIDAY 11AM- BONY MOUNTAIN BOYS -our mates from north Qld-with Andy Redfern
FRIDAY 11.30AM - STEVE CASE -our outback Balladeer and a real Aussie character
FRIDAY 12 NOON-Mayor of Warwick- Vic Pennissi-will welcome everyone-we thank Southern Downs Regional Council for all their wonderful support since we began in 2011.
FRIDAY 12.15 - THE WHEATVALE & COMBINED SCHOOL CHOIR- with Jayne Shelley musical director presenting a 30 mn set of songs! We welcome them all to Bony Mountain.
FRIDAY 1PM- JEFF BROWN- our favorite Balladeer. Jeff is the real thing- a truckie, a family man, a songwriter, story teller who loves our Aussie history.
FRIDAY 2PM- GED &TRUDY- a wonderful Country duo presenting their very best.
FRIDAY 3PM -ANDY PENKOW- our rising country star presenting his chart topping songs.
FRIDAY 3.30PM Allan Caswell- Presents (Secrets of Songwriting) - Allan is one of our best Songwriters. (40 mns)
FRIDAY 4.10 PM- SIMPLY BUSHED - ACOUSTIC SET- from two of the best. (40 mns)
FRIDAY 5.PM- WARWICK PIPE THISTLE BAND MARCH IN - performing a 40 min set- WORLD CLASS BAND
FRIDAY 5.40 -NORMA O'HARA MURPHY - presents (The Battle for the Brumbies) with a video clip-and Norma's brand new song (KOSCIUSKO) official launch. &a new version of Cattle Dog -with Brian Stitt.
FRIDAY 6 15 PM- BARLEYSHAKES- this fabulous Celtic Band- featuring all your Irish classics- jig along!
FRIDAY 7.30 PM- OPEN SEASON -an exciting bunch- rockabilly- Bluegrass/Country mix!